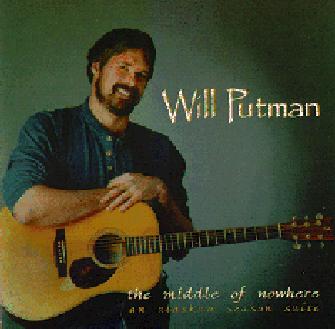 the middle of nowhere - an alaskan seasonal suite
Will Putman
Will's first solo release is based on the cycle of the seasons in interior Alaska.
This CD features all new original songs and instrumentals. Will's vocals and
acoustic guitar form the core of the selections; some cuts feature harmonica
and the 'bowed' guitar. Will is joined by Trudy Heffernan (standup bass and harmony), Shonti Elder (fiddle), Ken Clarkson (banjo), Forrest Gibson (mandolin), Charlie Hunt (mandolin) and Pat Fitzgerald (light percussion). Recorded at 10th Planet Studios, Fairbanks, Alaska. Available on CD. Featured songs: new year, telemark run, seven minutes summer day, spot of sun, riverboat, august, middle of nowhere, autumnal interlude, time worth the biding, pastel, and new year revisited.